Add your own questions with answer fields into the booking form by using custom fields.
The custom fields you create will be added to the Details step of the booking process. By default, you'll only be asking your customers for their name, phone number, and email address.
Design Custom Fields
Navigate to the Custom Fields tab in Bookly menu and add new fields by pressing on the + buttons.
If you've enabled the "Bind fields to services option" (read below), you'll also get a drop-down checkbox for you to mark which services the field you're adding is relevant for.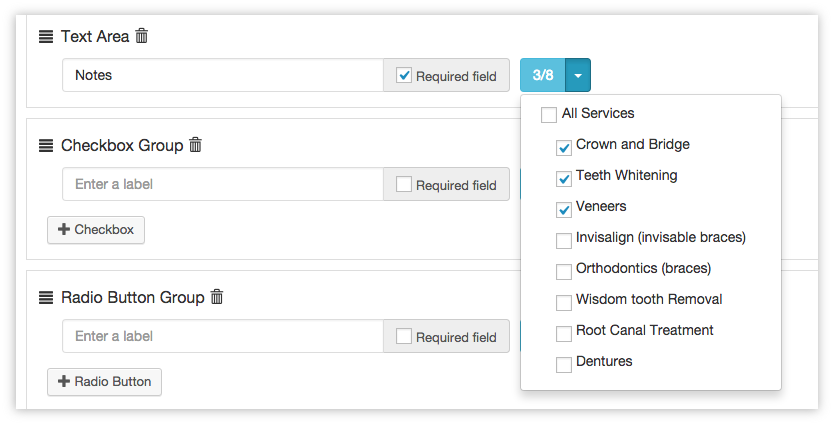 Types
Text area - an element of the booking form interface, which you can place above or below the fields that customers will have to fill in (or choose an option from).
Text field can be filled in by the customer.
Checkbox group can organize several points on a list. Customers will be able to select multiple elements from the list (by checking their boxes).

Bullet point list is a list with only one possible choice.
All custom fields can be re-arranged between themselves (by dragging the sandwich icon), but the entire custom fields group will sit in the Details step of the booking process, just below the personal info fields.


Choose Step of Booking Process

You might want to ask for different info in your custom fields depending on the service that the customer is booking. For example, if you run a car garage and someone's booking a paint job, you wouldn't ask for much more than info on body damage and any specific materials that the body is made out of. If however, another customer books an engine check-up, there would be totally different questions you might want to ask them.
It gets even more complex if you turn on the Cart option. With Cart enabled, choosing to "Bind Fields to Services" will move the personal details step of the booking process from after the cart to before the cart.
That means that the customer will be able to give different sets of info for each service they're booking.
The setting is "Bind Fields to Services" in the Custom Fields dashboard tab:
enabled = Custom Fields go before Cart, but right after Time for individual service and Extras (if you've enabled them).
disabled = Custom Fields go after Cart, but before payment. This is the default setting.
RELATED
Customer List - manage all the data that you get from customers.