Important
All add-ons for Bookly require Bookly PRO installed and activated.
Limit the hours within staff's daily working hours when each service is available.
The setting is service-specific and interacts with staff's working hours in such a way that service availability hours and staff working hours overlap, thus creating an interval within each staff member's day when the service can be provided.
A service's schedule is set up as a one-time interval for each day of the week, with breaks during the day.
To set a service schedule, go to the Services section, click Edit > Schedule tab.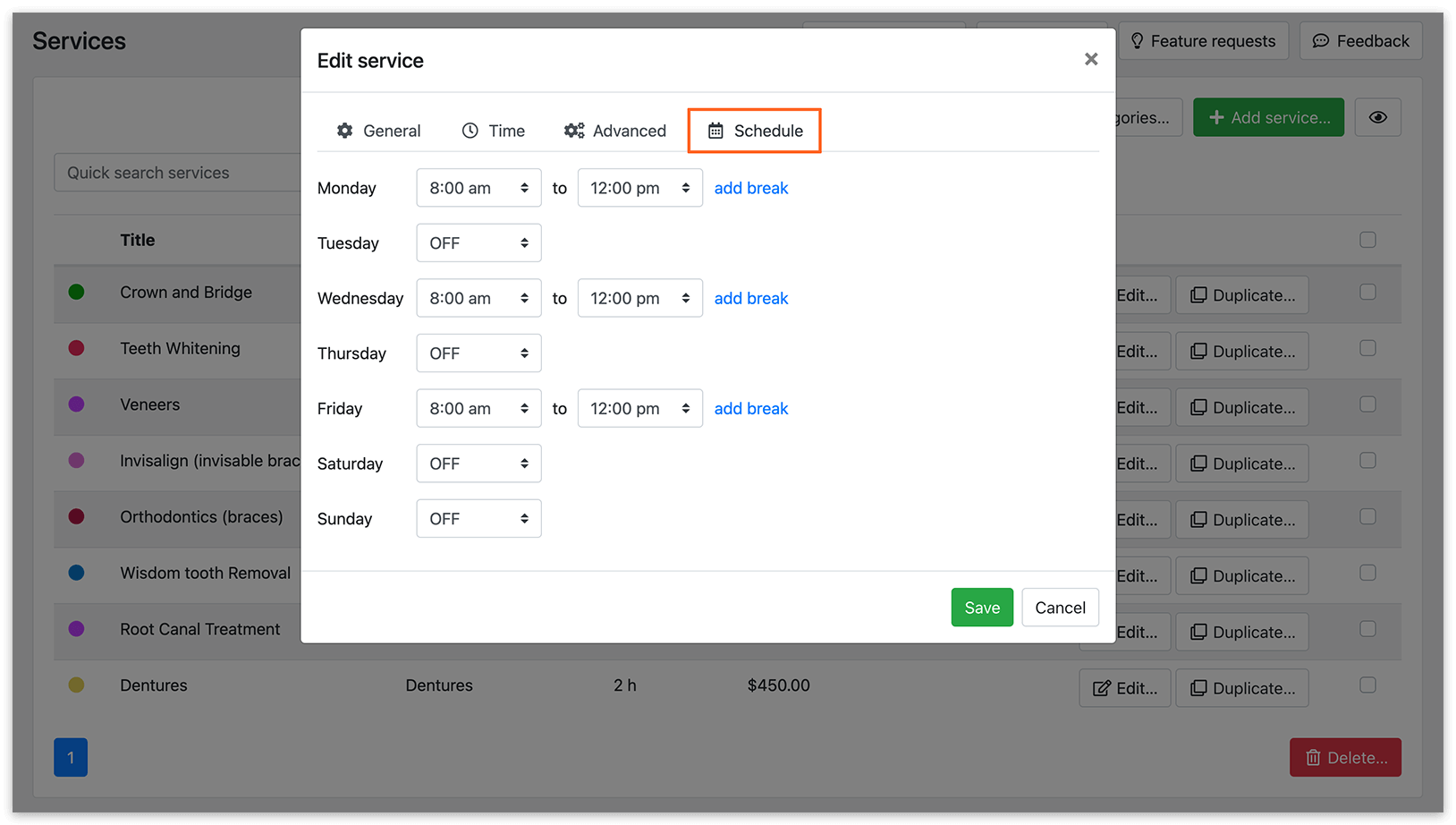 Integrate with the Special Days (Add-on)
If both add-ons are installed, you can override standard working hours for specific dates on the calendar by tweaking the days and hours when individual services are available for booking (vs standard Special Days functionality, which applies them to entire staff member's schedule and all of their services). You can even make the service completely unavailable for booking on particular days: select OFF in the time selection drop-down.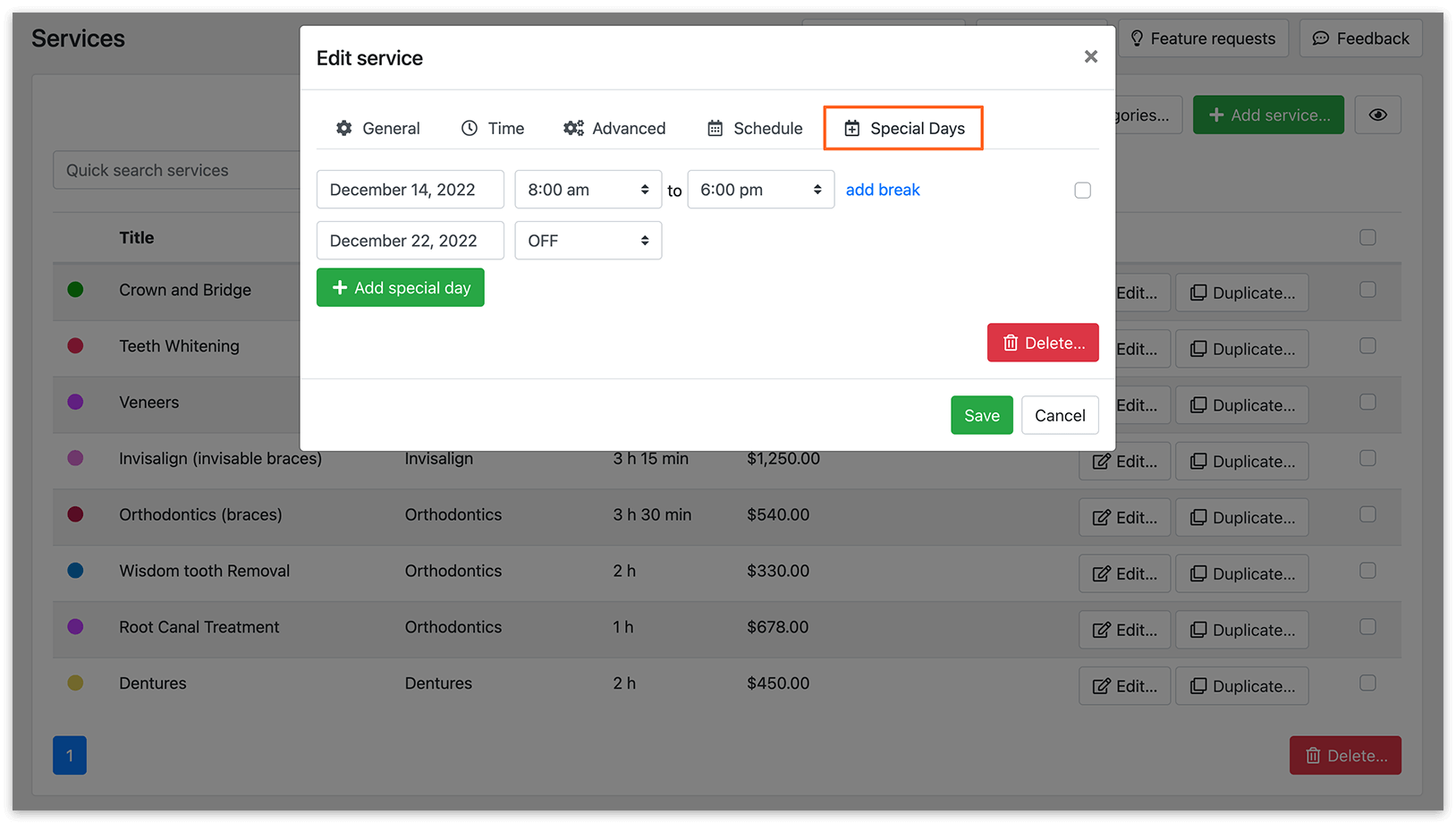 The standard functionality of Special Days also remains, which means that staff can also have their working hours tweaked on specific days (with no dependence on services).

Now, what happens on days when both the service in question and the staff member have a special day set up (i.e., for both the service and the staff member, the availability hours have been tweaked using the Special Days + Service Schedule mix)? A slot is only offered to clients if it's included in both the service's and staff member's working hours during that day.
Setup
1. Download, install and activate The Service Schedule (Add-on) as a new plugin on your WordPress dashboard > Plugins.
2. In the Services section (Edit Service > Schedule tab), create custom availability hours for each service.
By leaving a service unchanged, you'll be keeping it available at all hours that the staff members providing that service are working.
Once the add-on is set up, Bookly will consider the special service schedules when offering available time slots to customers.
Set up Service Schedule & Special Days combo
Here's how you determine dates during the year when each service is available:
1. Make sure you've got both Service Schedule and Special Days (Add-ons) installed and enabled.
2. In Services > Schedule, select dates and hours of availability for each service.
Get the Service Schedule (Add-on) here.
Try this demo (both front-end and back-end versions) to get a better understanding of how the Service Schedule (Add-on) works.
Watch this video tutorial to learn how to limit the hours during the day when the service can be booked.
Try Bookly full demo to see the integration of Service Schedule (Add-on) with Special Days (Add-on).
DEMOVIDEO TUTORIALSMAIN BOOKLY SETTINGSFAQADD-ONS
RELATED
Special Hours (Add-on) – with this add-on, you can also charge differently at various hours during the day.
GOOD TO KNOW
[BOOKLY BLOG] How to set specific booking days and times for a service
[BOOKLY BLOG] What's the difference between Service Schedule (Add-on) & Special Days (Add-on)