WPML is the recommended option for translating the plugin and offering multi-language support.
WPML will translate the entirety of your plugin, including dynamic info, i.e., service and category titles, scheduled notifications, and any custom fields that you've created by the time of translation.
Setup
1. Install the WPML plugin.
2. Install Bookly
(We recommend that you install WPML before you install Bookly as that is the easiest way to have the entire Bookly plugin translated.
However, if you have already installed Bookly, you will need to do one additional step to make sure your notifications are also translated via WPML: go to each of the Email & SMS Notifications tabs and press "Save" at the bottom of each page when you're done setting WPML.)
3. Choose the primary language for translation and, if necessary, secondary languages you'll need translating into.
4. Go to WPML > Theme and plugins localization, and select the option "Translate by WPML" in "Select how to localize the theme" (this will make sure that even your customized texts get translated):


5. Select the Bookly plugin to scan.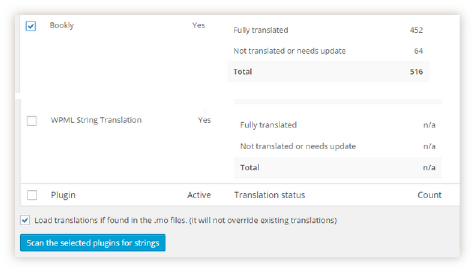 Check the "Load translations if found in the .mo files" option if you want to use the initial translations provided in .mo files and click on "Scan the selected plugins for strings".
6. When the scanning is complete, you'll be offered to see the result (button 1), view untranslated bits of text (button 2), or create an export PO file. We recommend that you choose to see the "strings that need translation" as there's almost always something left out from the automatic translation.


7. On this page, you'll have the full list of strings for translation. There is also a search box in the upper part of the screen. Just click on translations, and you'll have a drop-down menu for filling the translated text. After you finish, tick "Translation is complete" and save it.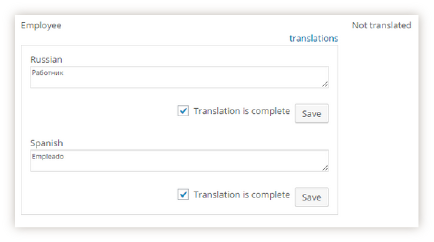 8. If you installed WPML after you installed Bookly, don't forget to go the Email Notifications and SMS Notifications tabs and press "Save" at the bottom of each page.
DEMO | VIDEO TUTORIALS | MAIN BOOKLY SETTINGS | FAQ | ADD-ONS
RELATED
Customize the Appearance of the Booking Form – change colors, rename buttons, and add personalization codes to practically all elements of the booking form interface.