1. Purchase and download the plugin from our CodeCanyon page.

2. Extract bookly-addon-pro.zip from the downloaded archive.
3. Log in as admin to your WordPress website.
4. In Plugins, click Add New and Upload. Select the bookly-addon-pro.zip file and click Install Now. After successful installation, click Activate.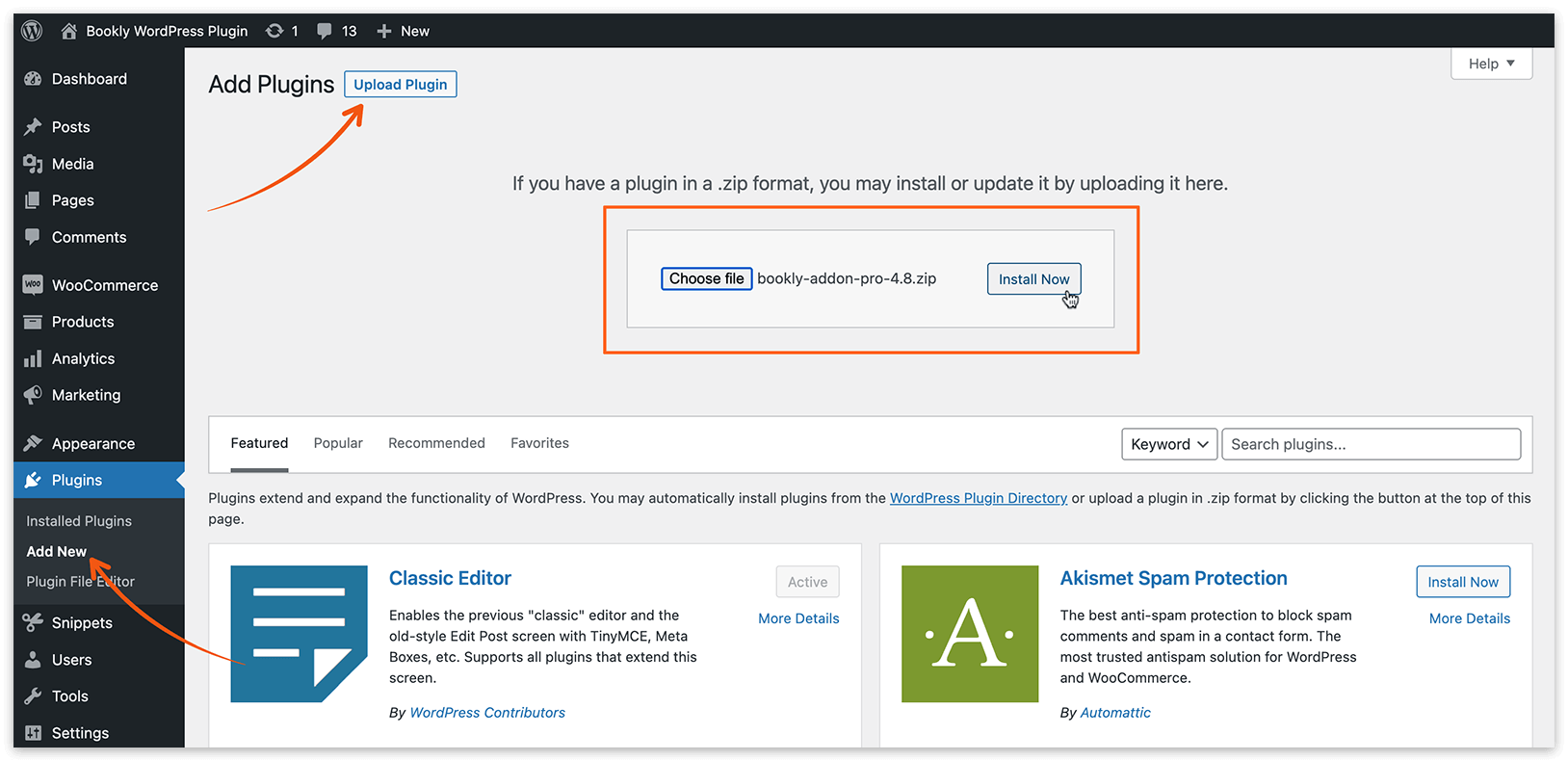 5. In your WordPress dashboard > Installed Plugins, you will have 2 plugins installed – Bookly (required free basic version which is automatically downloaded and activated) and Bookly Pro (an add-on with advanced features and settings).

6. Go to Bookly menu > Settings > Purchase Code and enter your purchase code in the appropriate field to have access to free updates of Bookly Pro (Add-on). Read here how to find your purchase code.
Watch this video to learn how to perform the initial setup and discover the main Bookly Pro settings and features.
Bookly full demo will give you an overview of the plugin's capabilities and functionality that can be purchased additionally as add-ons.
This video describes how to download, install and activate the free version of Bookly, and how to upgrade to the paid version with the Bookly Pro (Add-on).
DEMO VIDEO TUTORIALS MAIN BOOKLY SETTINGS FAQ ADD-ONS
RELATED
Basic Setup
GOOD TO KNOW
[Bookly Blog] Mistakes Every Bookly Beginner Should Avoid
Multisite Add-on – if you're planning to use Bookly on multiple websites.
WPML Plugin Integration – to translate booking form interface and notifications from English into 40+ other languages.