Important
All add-ons for Bookly require Bookly PRO installed and activated.
Change working hours of staff for just those special days in a year with the Special Days (Add-on).
Set a custom schedule, including breaks – different from default working hours for individual staff members.
Setup
1. Once you've purchased and downloaded the Special Days (Add-on), install and activate it in Plugins.
2. In the Staff Members section, select a staff, click Edit, and switch to the Special Days tab. Set the working hours and breaks for each day that's different from the staff member's default working schedule.
Special day settings will override regular schedule and even days off created for each staff member.
3. If you have installed and activated the Bookly Locations (Add-on), you can set special days in different locations. Make sure to enable Custom settings for location in Settings > Locations, so you'll be able to choose between locations when you determine a staff member's schedule.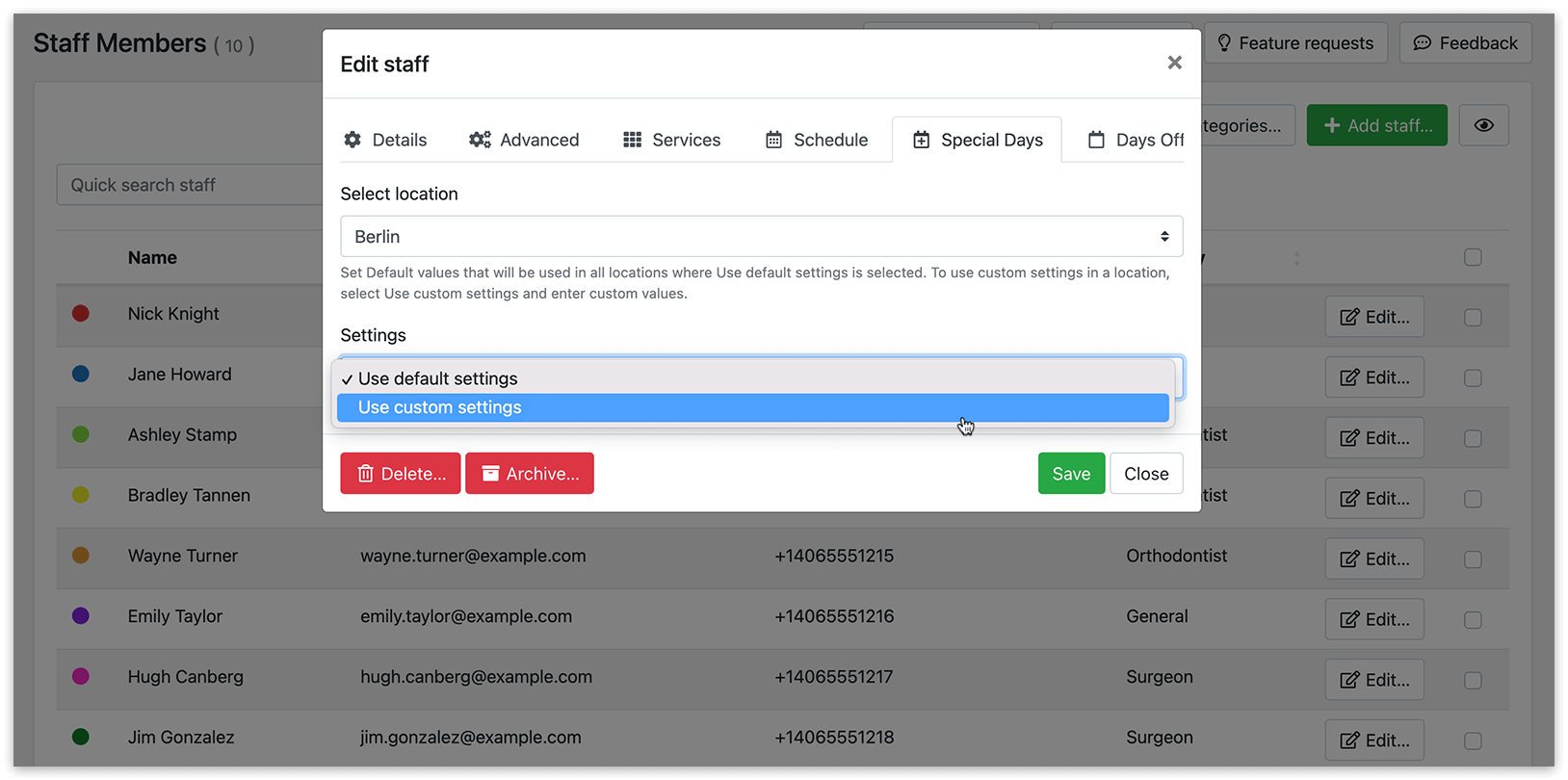 How to create special event
Using the Special Days (Add-on) functionality, you can offer occasional appointments or one-time events for booking.
1) Disable the entire schedule for your staff member.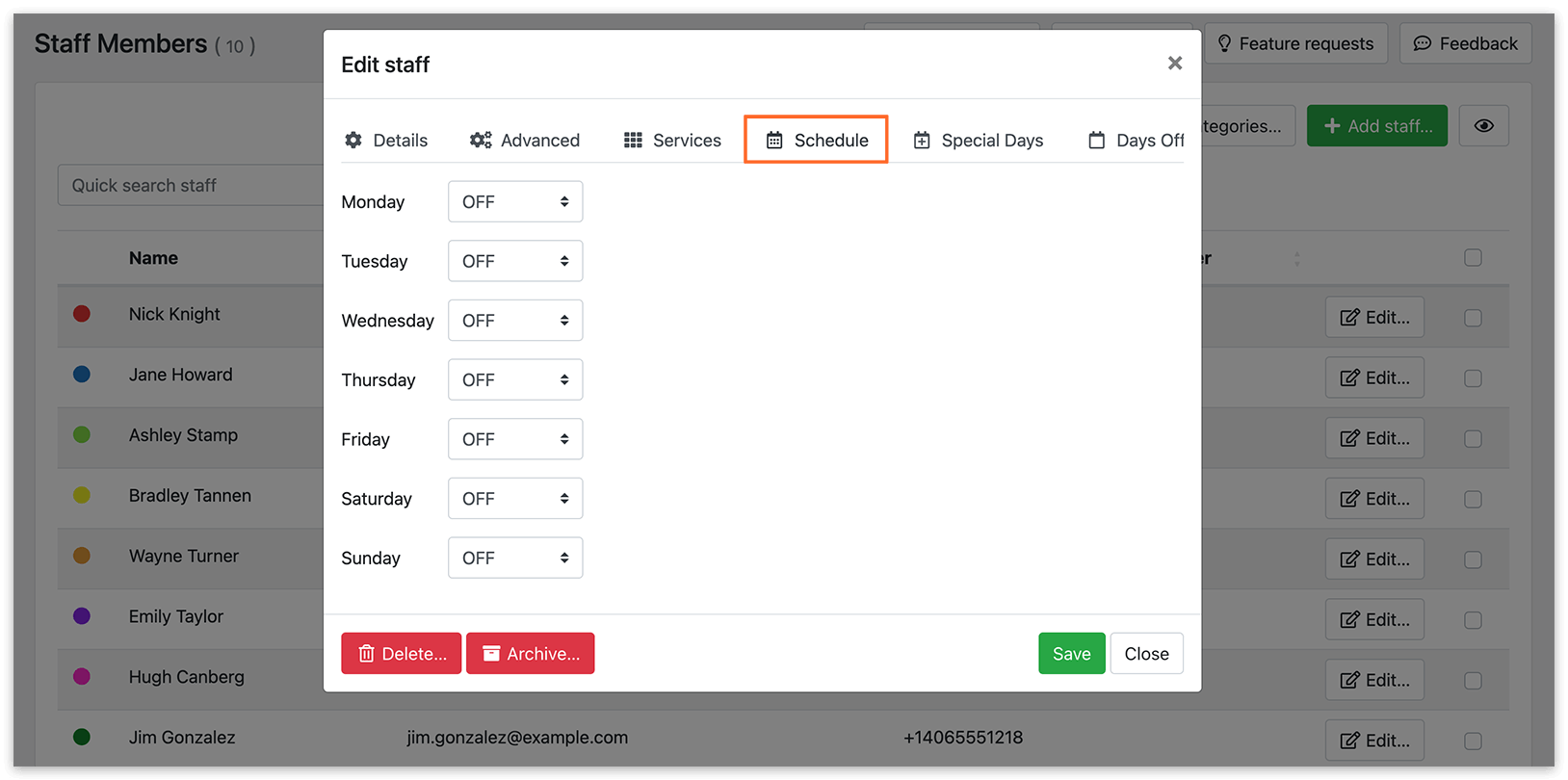 2) Switch to the Special Days tab and determine staff schedule only for particular days.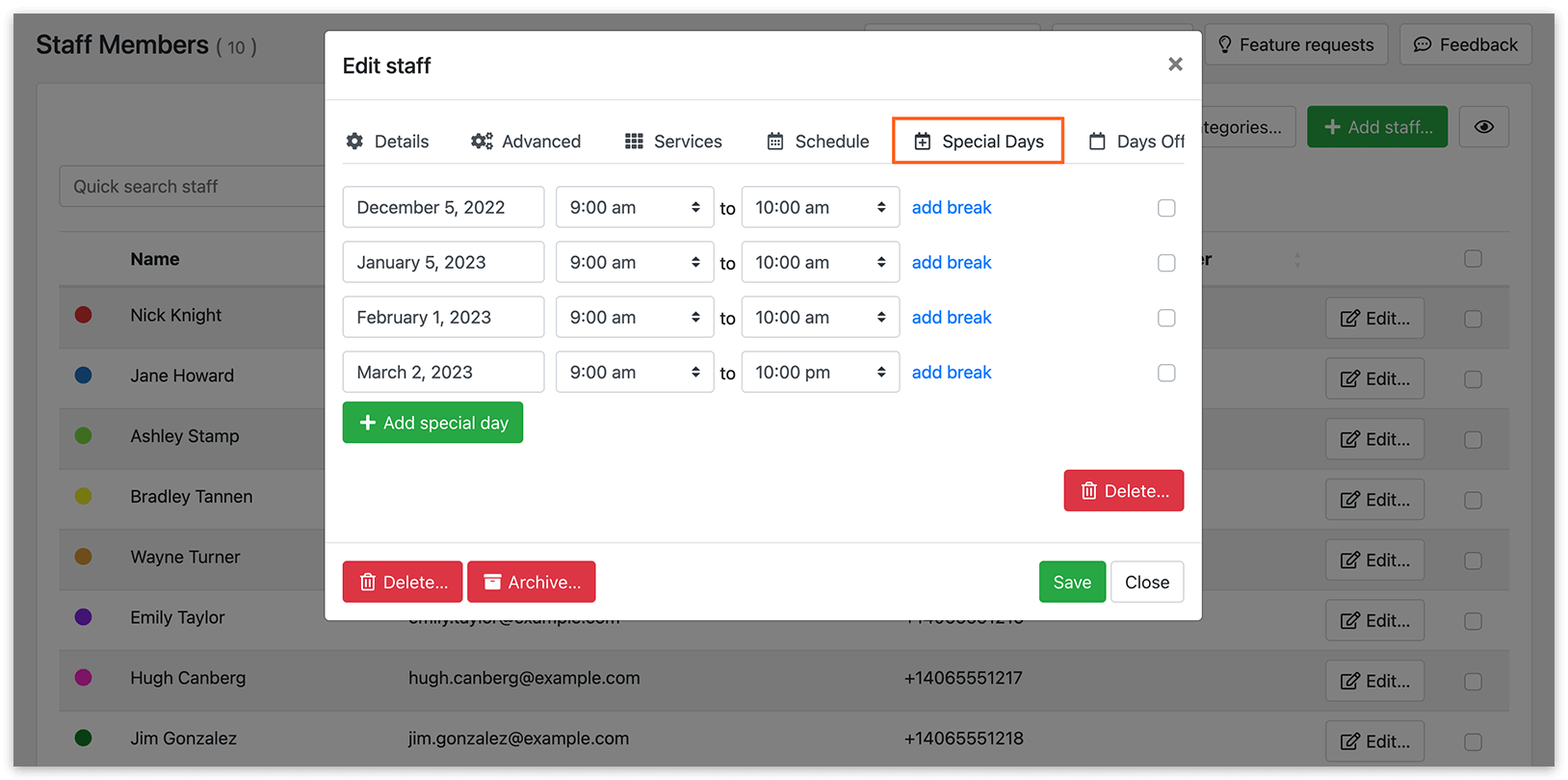 This is how the booking from will present available time slots for such schedule

3) Hide the first step of your booking form if necessary. Read here how to do it.
Get your copy of the Special Days (Add-on) here.
Try this demo (both front-end and back-end versions) to get a better understanding of how the Special Days (Add-on) works.
Watch this video about configuring custom schedules for your employees.
DEMOVIDEO TUTORIALSMAIN BOOKLY SETTINGSFAQADD-ONS
RELATED
Default working hours, holidays, & breaks – learn how to set up detailed working schedules for the normal days of the year.
Varying price during the day – charge a different amount for appointments booked for different hours during the day.
Multiday bookings – see 'Duration' section here if you're looking for a way to set up an appointment duration longer than a day.
GOOD TO KNOW
Google Calendar sync – track workload during packed days by automatically syncing it to each staff member's Google Calendar.
[Bookly Blog] What's the difference between Service Schedule (Add-on) & Special Days (Add-on)