All these settings will be applied to all types of email notifications to customers and staff.
General Settings
Go to the Email Notifications section > Settings tab.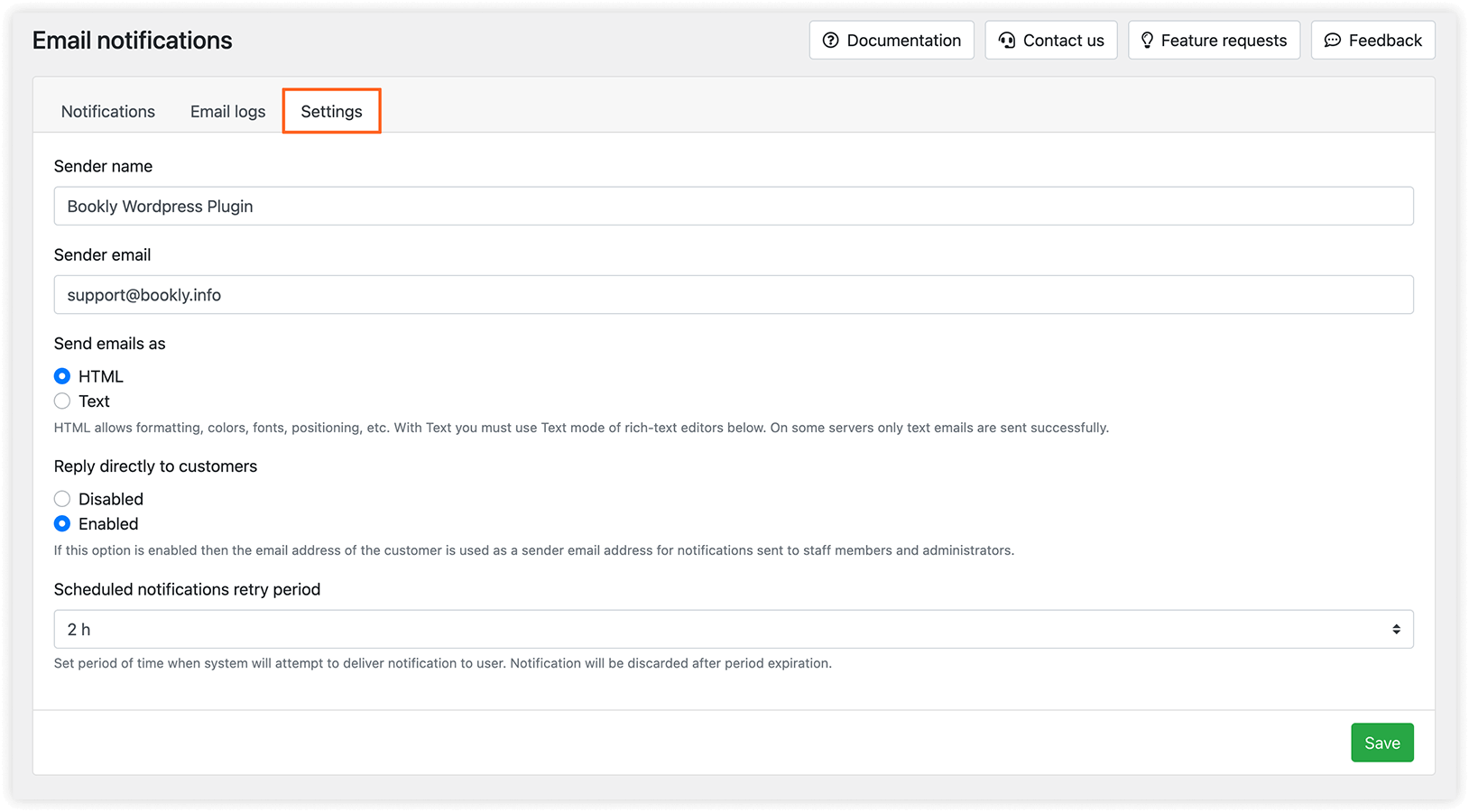 Sender name – we suggest that you use something recognizable, like company/brand name, or maybe even the name of the team member who provides the services (if you only have one).
Sender email – this has to be an existing and active email address.
Send emails as – choose the format of the notification.
HTML allows formatting options such as bolds, italics, colored fonts, positioning, etc.
Text is regular text. This format works for all email programs.
Reply directly to customers – enable this if you'd like to let your staff and admins communicate with your customers via email. This feature will use the customer's email address as the sender email in notifications sent to staff and in copies of customer notifications sent to admins.
Scheduled notifications retry period – the system will attempt to re-send the notification to the user over a specified period of time that is set here.
Email logs – enable this option if you want to see the history of all email notifications that were sent for reservations made via Bookly.
Click Save.
Note: When your clients misprinted their email address at the Details step of the booking process, they don't receive automated booking confirmation emails. In order to manage undelivered emails, please check your sender's mailbox for a 'delivery failed' messages.
Watch this video tutorial to learn more about configuring Email and SMS notifications in Bookly.
DEMO VIDEO TUTORIALS MAIN BOOKLY SETTINGS FAQ ADD-ONS
RELATED
Customize Notifications – create automated personalized emails to your clients.
Overview of Notifications – see how you can schedule emails and what you can set as triggers for automated and personalized emails.
GOOD TO KNOW
How can I configure CRON to send the Bookly reminders?
Email notifications don't work. How to fix this?
Why email notifications are not populated with the booking information?
WPML Integration – translate all your emails into 40+ languages with the WPML plugin.