Important
All add-ons for Bookly require Bookly PRO installed and activated.
Bookly Collaborative Services (Add-on) allows you to create services that require simultaneous participation of several staff members or a staff member and shared resources necessary for the service delivery. This way, your customers can book appointments with two or more staff members working together. Also, you can create and manage various shared resources (like rooms, tables, equipment, specific tools, devices, and items) and avoid double bookings of them if the resource is already in use.
Setup and configuration
1. Purchase, download, install and activate Bookly Collaborative Services (Add-on) in Plugins.
2. To create a collaborative service, go to the Services section, click Add service and select Collaborative. Enter the title and click Create service.

3. To open and configure the created collaborative service click Edit on the right.
On the General tab of the service card, you'll see a drop-down menu that allows you to add simple services and resources (see below how to create resources and add them to your collaborative services) into one standard appointment.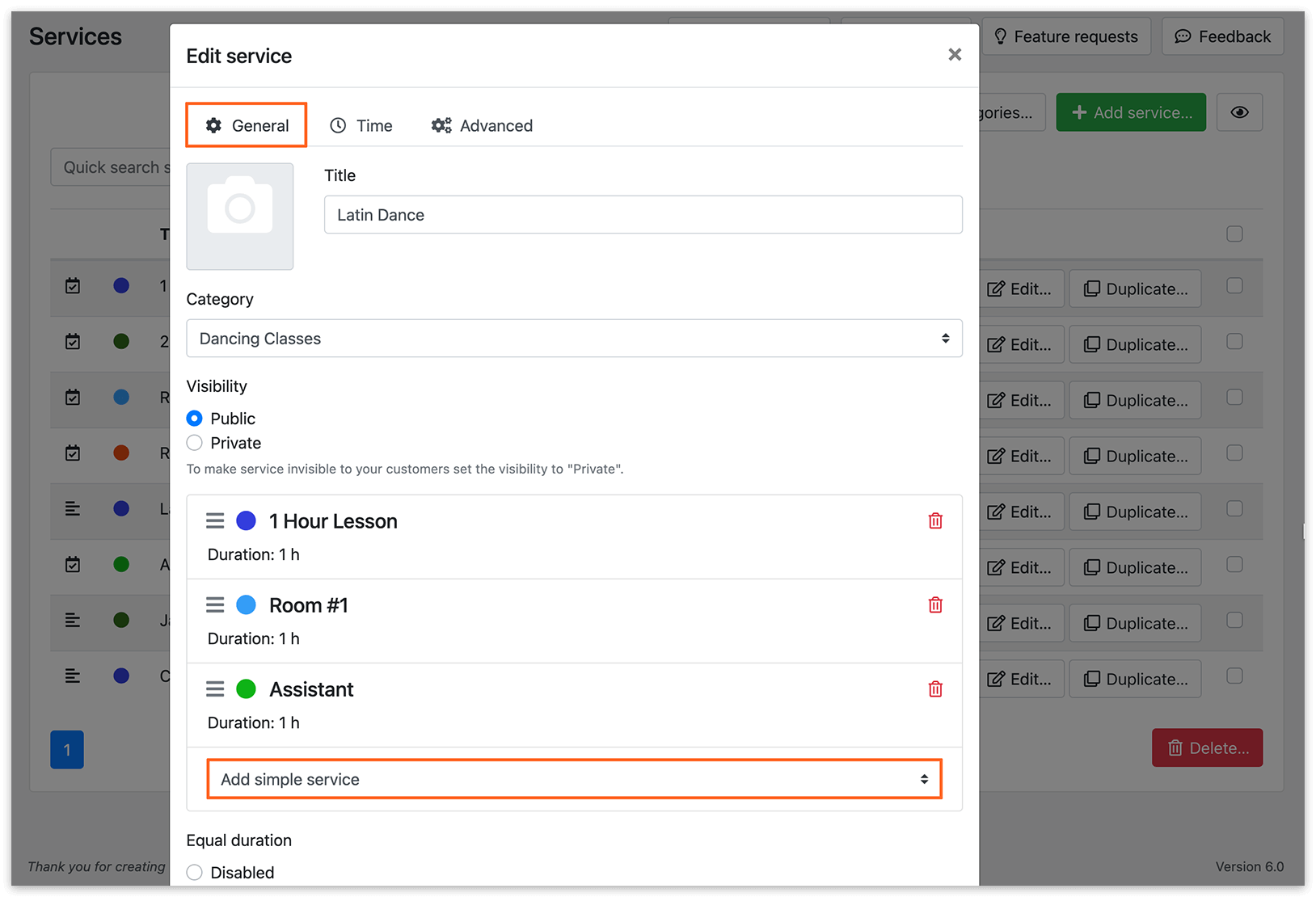 Note that collaborative service consists of two or more simple services performed at the same time. You should set up simple services before creating a collaborative service. You can set the services' Visibility to Private in case you don't want to let your customers book those services separately.
4. In Settings > Collaborative services, you can enable or disable the staff member selection by your customers in a booking form.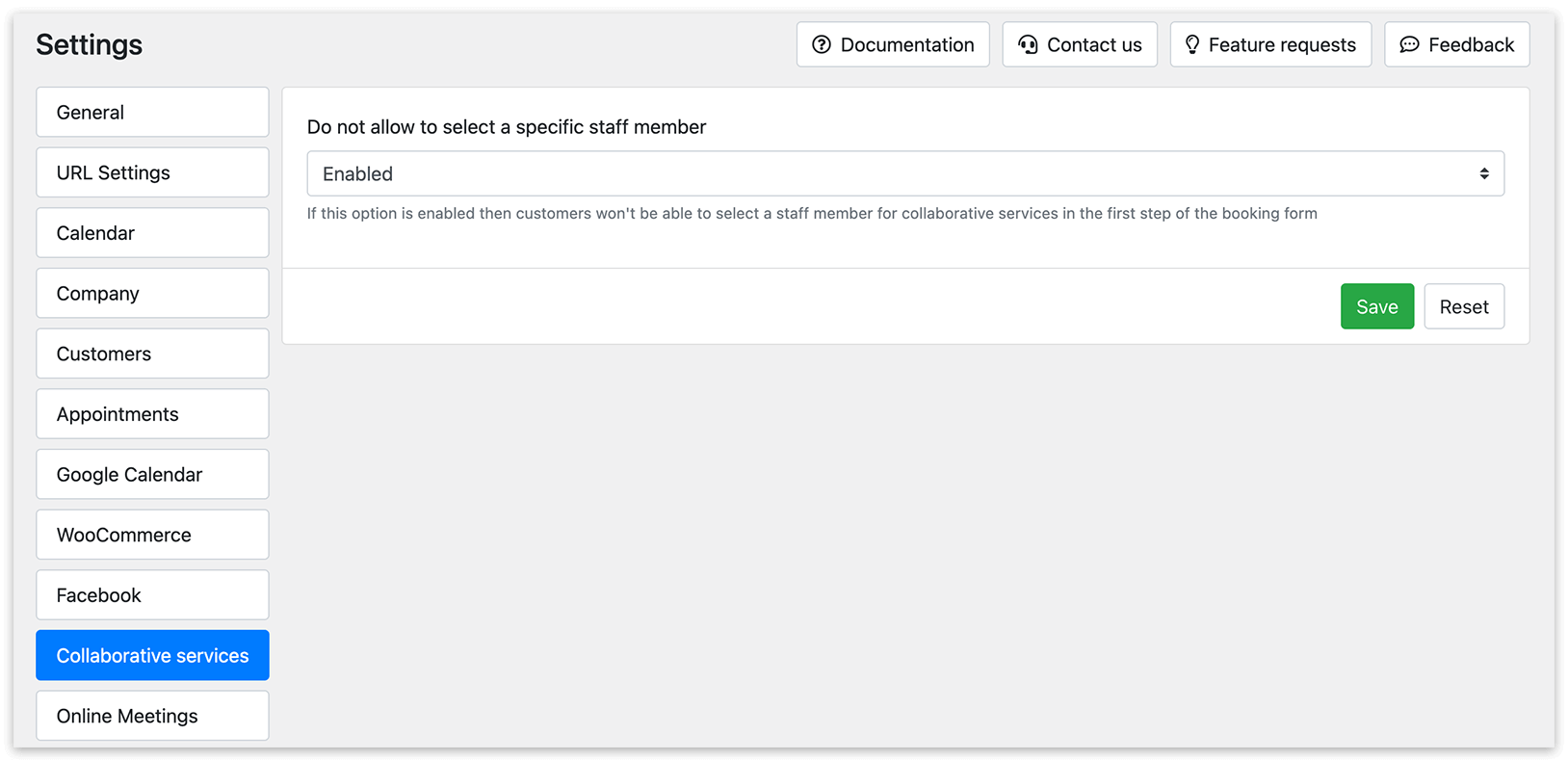 Equal duration
Each simple service that is a part of a collaborative service has its duration. If you enable the Equal duration setting, then every service's length will equal the duration of the longest one. This is helpful when you use a resource as a part of collaborative service – the resource will be booked for as long as required to perform the whole appointment. If disabled, each simple service within one collaborative service will be reserved for the duration determined in service settings.
How to create a resource and use it in a collaborative service
Sometimes, your staff members require specific resources, like meeting rooms, massage tables, medical devices, and other equipment to perform an appointment. Bookly allows you to create and use these resources in any relevant collaborative services to ensure that a resource is not double booked if it's already in use.
1. We recommend creating a specific category in the Staff Members section. Click Categories > Add category. Add items in there that will be used by your employees as service resources.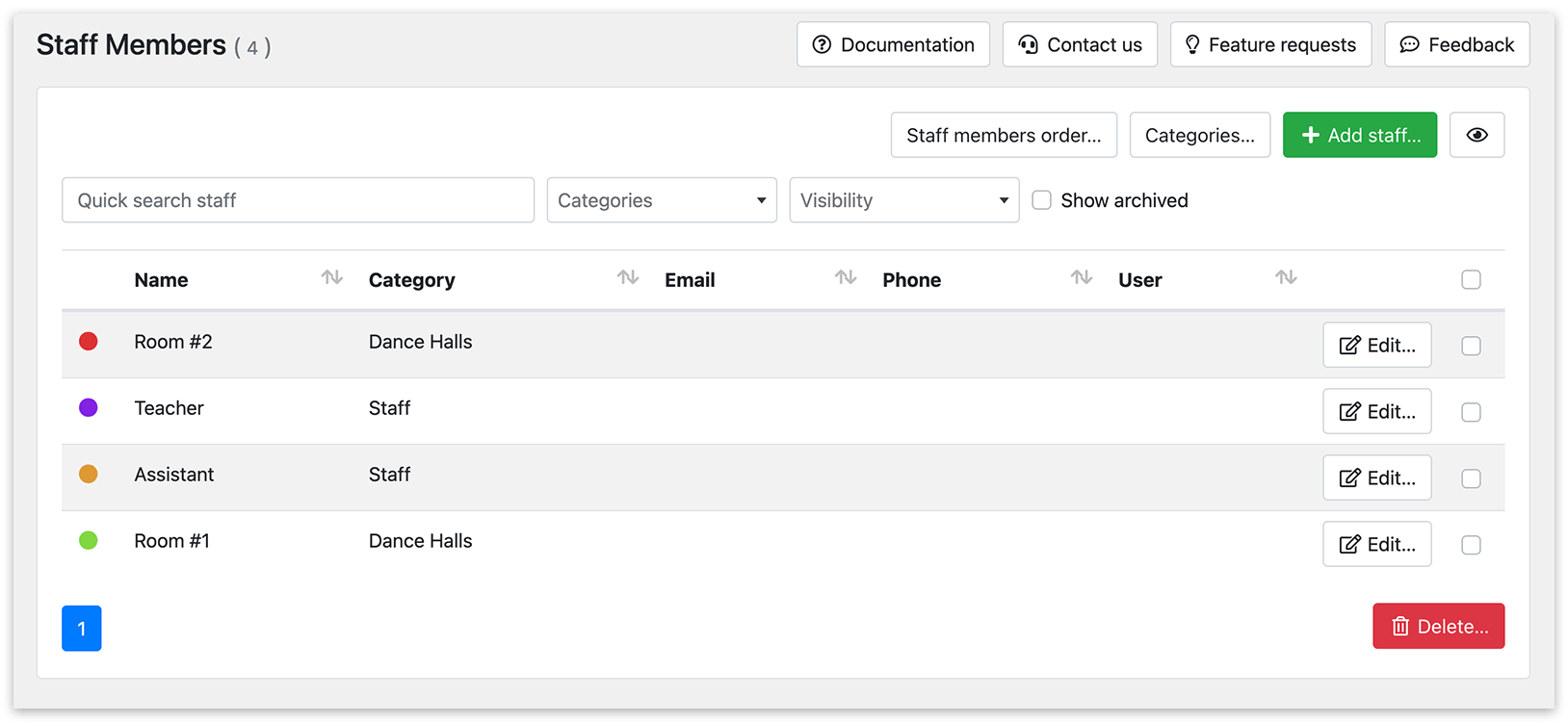 2. In the Services section, create a relevant service and assign a resource to it (like you usually do when assigning a regular staff member to a standard service). One resource can be assigned to as many services as you wish.
For better resource management, you can create separate categories for all simple services that you will use in collaborative services. You can then hide the Category field when you publish the booking form on your website.
Collaborative services are marked with a relevant icon in the list of services.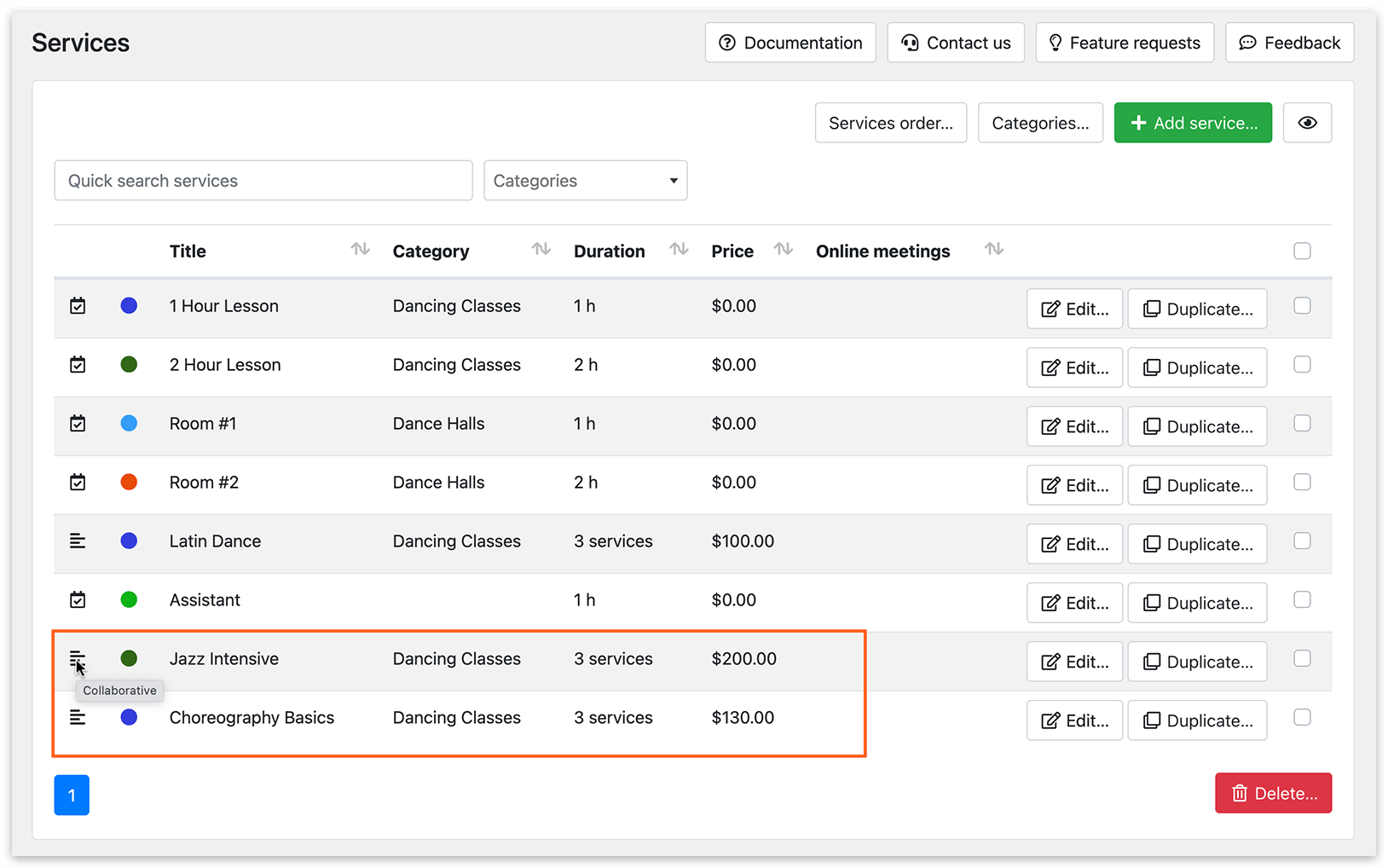 3. While building a collaborative service, select all necessary resources from the Add simple service drop-down alongside with regular services.
When your client books the collaborative service, your Bookly Calendar and Appointments section will display separate appointments per each service involved in one booking.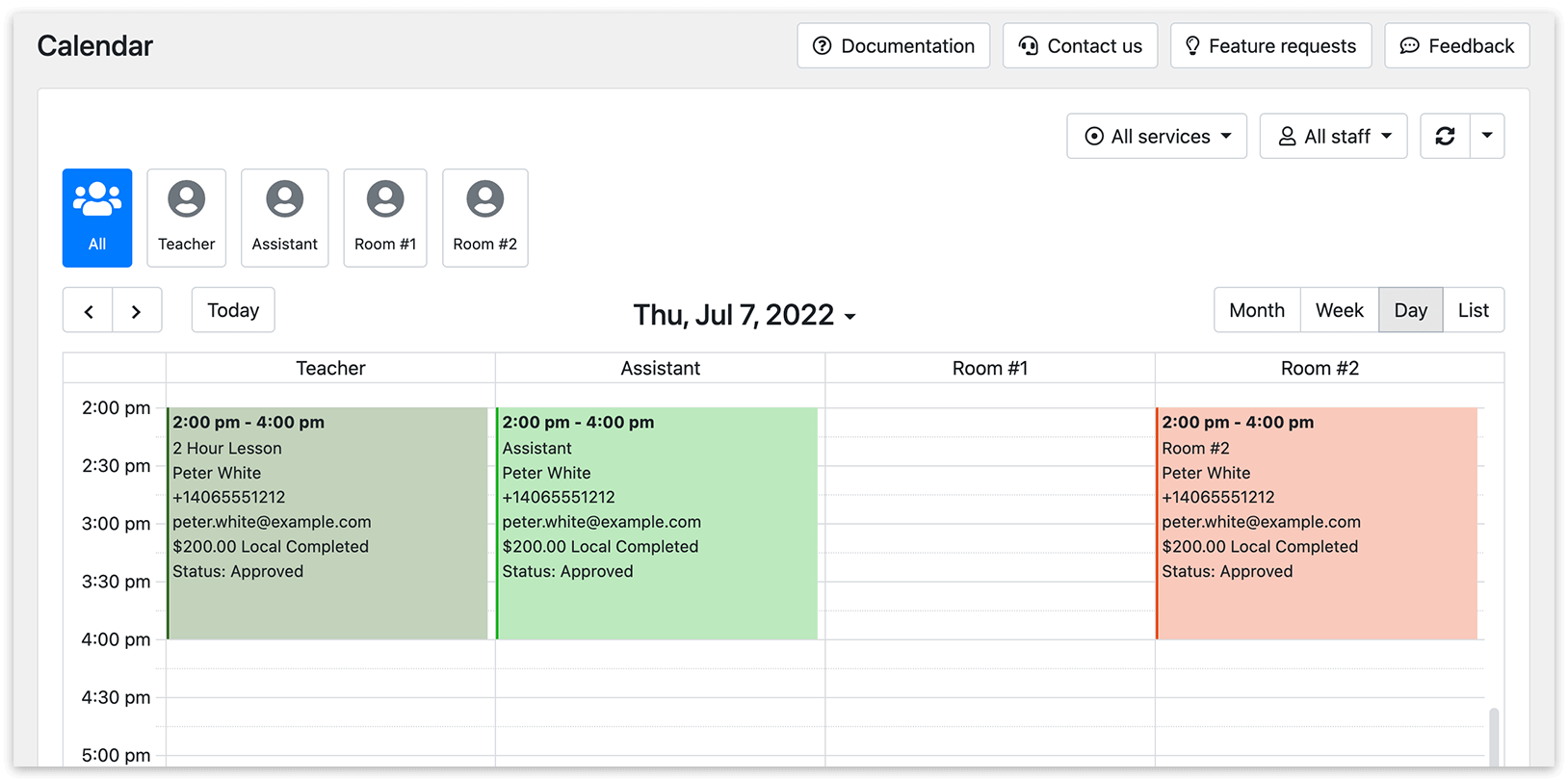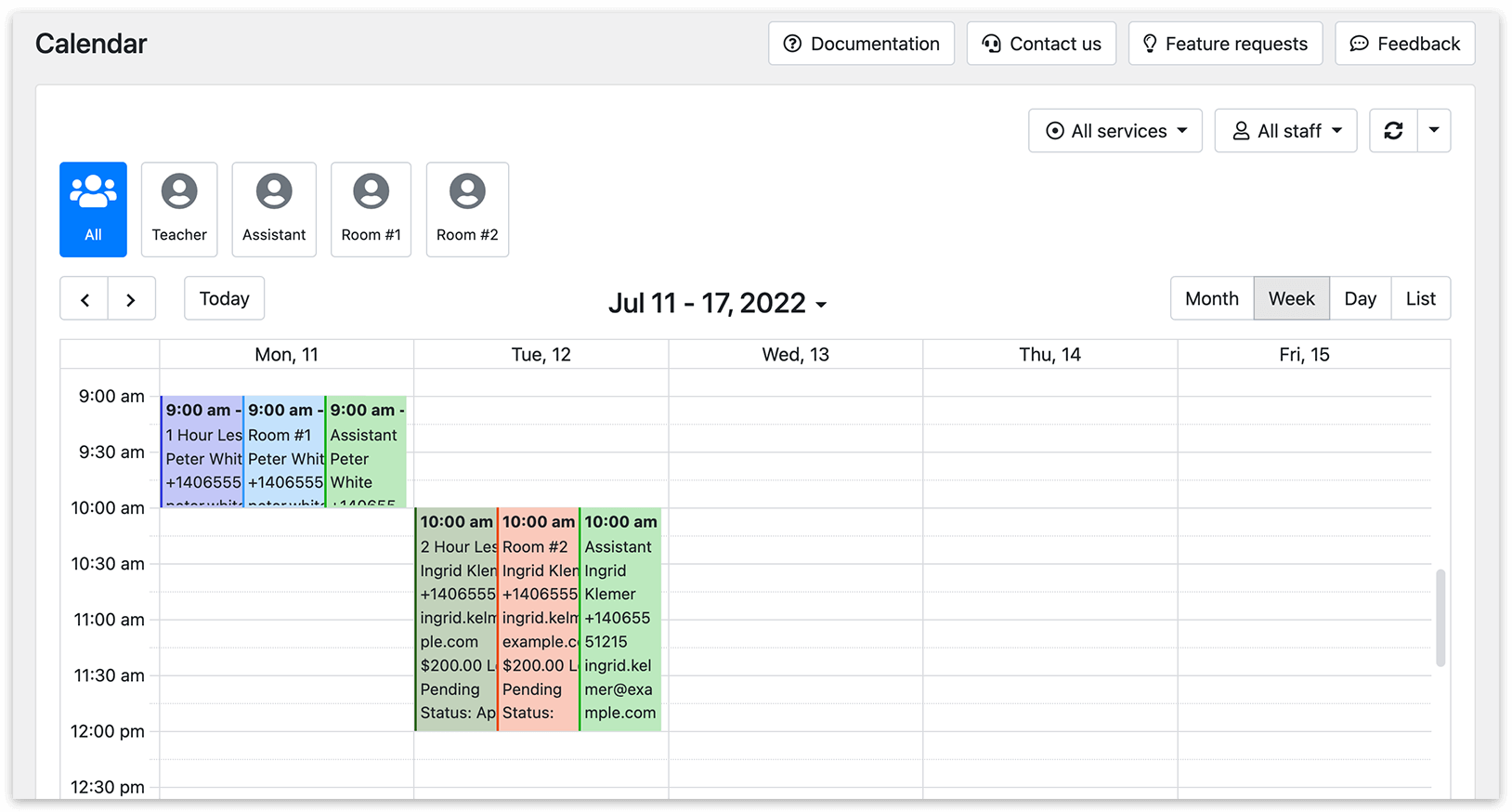 Click on the appointment to see if it's booked as a part of a collaborative service.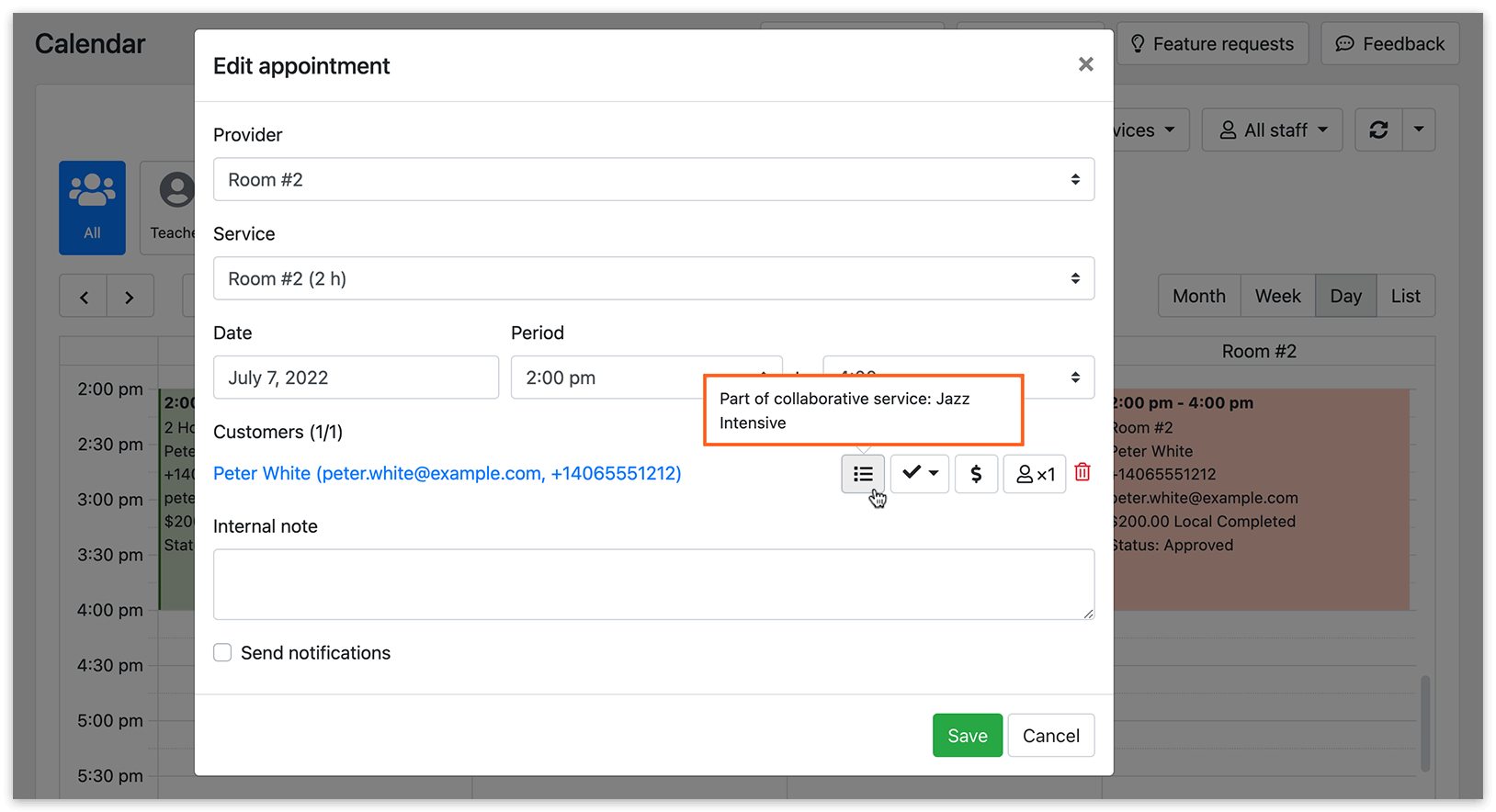 Click on the indicator to see the list of services which collaborative service consists of.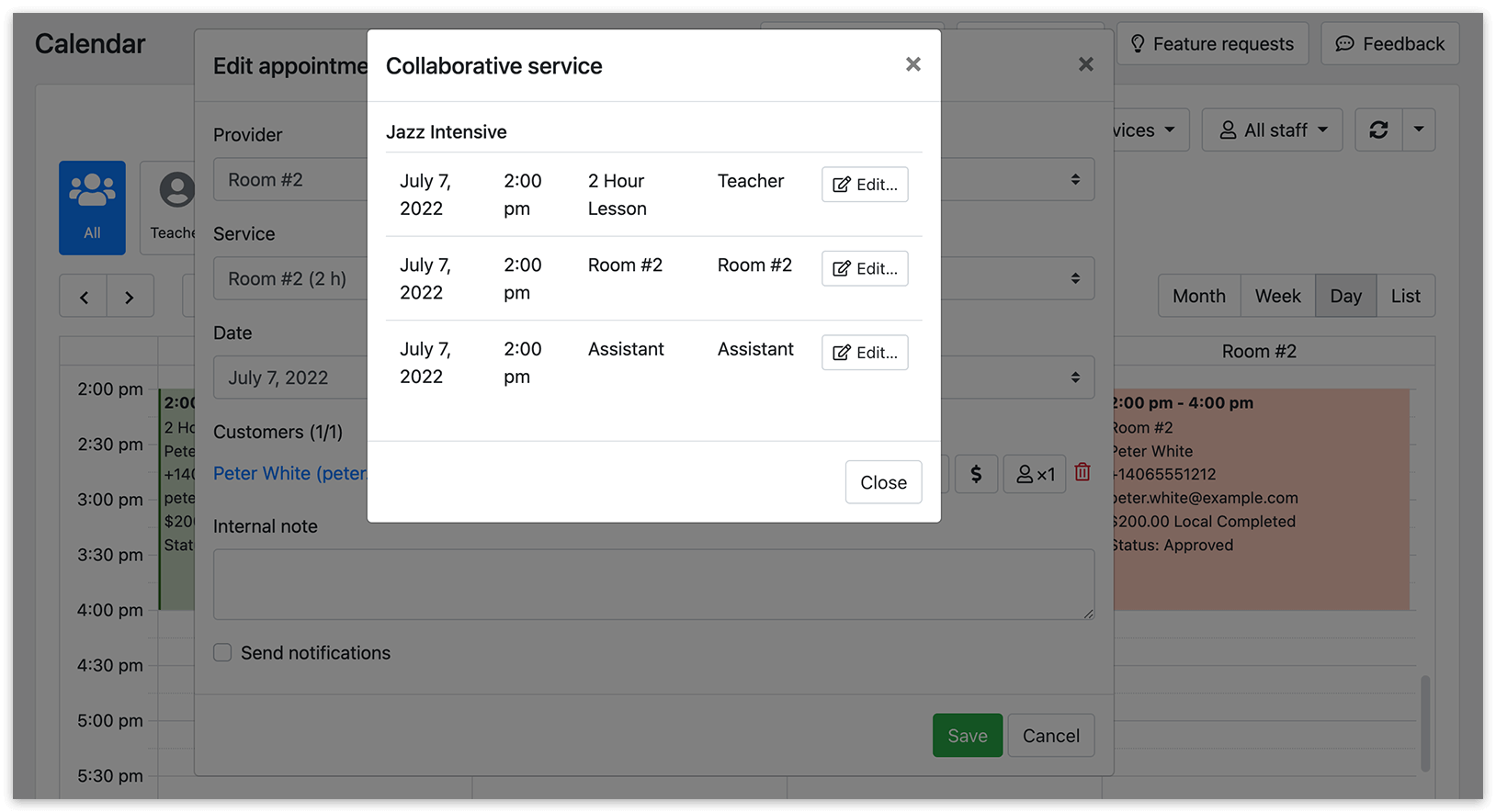 In our blog, we've described more scenarios about adding resources to bookings.
If your collaborative service consists of two or more services assigned to multiple staff members, your customers cannot choose staff members for each part of the collaborative service. The system displays and allows choosing an employee only for the first service (if Do not allow to select a specific staff member option disabled in Settings > Collaborative services) within the complex appointment, other employees are assigned automatically.
How to schedule one appointment for several employees
It's possible to let your clients set up a booking with multiple employees at the same time.
1. Create one simple service and assign it to all staff members.
2. Create a new service of the Collaborative type and add existing simple service as many times as how many employees should be involved in that booking.
So if your collaborative service consists of 2 simple services, then 2 of your staff members will be booked for such appointments. If you add 3 simple services into this kind of service, then 3 of your employees will be booked for such appointments simultaneously.
Clients will receive a single notification for the booked service. Your staff members will receive notifications per each booked appointment.
Collaborative services can be booked only via the front end. An administrator cannot create appointments with collaborative services in the backend but can add each appointment as a part of the collaborative service manually.
Note
Currently, it's not possible to use simple services with the length of more than 1 day and less than 1 day together as a part of a collaborative service. Such collaborative service won't be bookable via the front end.
Try this demo to get a better understanding of how the Collaborative Services (Add-on) works.
Bookly Collaborative Services (Add-on) is available for purchase here.
DEMOVIDEO TUTORIALSMAIN BOOKLY SETTINGSFAQADD-ONS
RELATED
Compound Services (Add-on) – combine existing services with spare time to build one complex appointment.
GOOD TO KNOW
[BOOKLY BLOG] How to use resources in bookings
[BOOKLY BLOG] What's the difference between Compound Services (Add-on) & Collaborative Services (Add-on)